Readings
NCGR4 Certification
Bio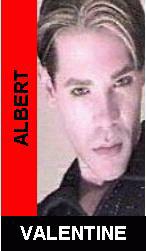 Albert Valentine, NCGR4
Originally from NYC, he accidentally "stumbled" into Astrology as a hobby in 1990. He proceeded to study Astrology as a fun hobby. Reading books, homework was not slave labor. It was inspiration. Eventually it led to finishing 1 level for the examination for the National Council for Geocosmic Research (NCGR.) The rest became history as he finished all 4 levels exams.

In 1993, Albert Valentine predicted on his Astrology TV Show, Chartalk, the World Trade Center would eventually Explode.
Albert has a variety of clients from Celebrity's, politicians to businessmen. His client list is confidential and not disclosed due to right of privacy.

From the periods of 1993-1995, Albert Valentine, produced his own astrology television show, Chartalk, in NYC. The show spread in other boroughs of NY state, NJ, and California. It was an interesting experience. Doing a live call in show where a quick 5 minute reading takes place is a toughie - as Astrology is never done in a rush. From this on the air experience and working on today's fast pace society where 900 lines are all geared to "quick" readings, Albert has become proficient in seeing the utmost significant matter in a chart in an instant. In less than 5 minutes he can see a secondary progression that's in a configuration! Over a decade has passed and it only gets better! Like working out at a gym, the more you exercise your muscles the faster you grow. He is constantly exercising his chart muscles!
Some his articles have been published in "NY Times," "Midnight Horoscope," "NCGR newsletter," and "La Voz,"
Also, some of his workshops/lectures have been for "NCGR," "Spirit Connection," and "Learning Annex."